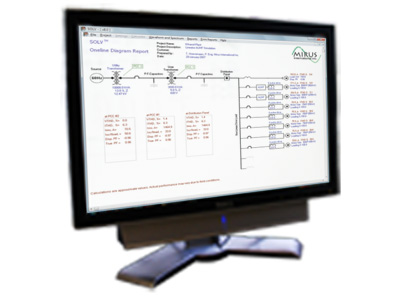 SOLV™ is a powerful simulation program that will calculate current and voltage distortion levels by simulating the Mirus Lineator™ and Variable Speed Drive (VSD) / Variable Frequency Drive (VFD) based on your load requirement. By simply entering some basic information about your source and VSD system, MIRUS' SOLV™ will help you find the right solution for your VSD application by accurately predicting the performance level you can expect without the need of a costly harmonic study and it's complimentary. You can download SOLV™ for free - download now!
SOLV™ also allows you to perform energy analysis by providing evidence of how energy can be saved by removing harmonic losses introduced by VFDs and justifying the use of Lineators based on energy savings. Its kW calculation includes all harmonic losses in transformers and cables and provides total kW, kVA and kVAR at the Point of Common Coupling (PCC), Distribution Panel in the Summary Report. SOLV™ eliminates the guesswork in evaluating the best performing solution for your harmonic challenges.
This software is a valuable tool for consulting and specifying engineers, utility operators, OEMs and anyone who need to evaluate and compare solutions for treating harmonics in VFD applications. A trusted tool since 2004, SOLV™ is used by power quality professionals that represent a wide spectrum of industries including Oil & Gas, Marine, HVAC, Water/Wastewater, Industrial, Government, Education, to name a few.

Our PSS Software has two different modules, Thermal Management & Signaling Technologies guiding you through the sizing process, step-by-step to calculate the correct product for your application. After completing the form below you will have access to both our Thermal Management and Signaling Technologies sizing software.
THERMAL MANAGEMENT MODULE
Proper thermal management is key for saving resources and keeping electronics (and machinery) up and running on a consistent basis. To provide the best thermal management engineering support in the industry, Pfannenberg has developed a powerful new web-based sizing application containing an easy-to-use interface. The software can be customized to your applications by allowing you to enter your own components and enclosure styles in the database for easy and fast calculations.The software also accounts for indoor and outdoor applications and assists in calculating heat dissipation within enclosure cabinets.

SIGNALING TECHNOLOGIES MODULE
Our Signaling Technologies module helps you calculate the recommended signaling products. You can choose our SIZING, SELECTION or CONFIGURATION tools within the software. The SIZING tool helps you select the recommended products based on dimension, the SELECTION tool helps you choose the proper product based on application and the CONFIGURATION tool walks you through configuring a signal tower.
SINAMICS Engineering in the TIA Portal
The Totally Integrated Automation Portal (TIA Portal) is the next generation of engineering software for industrial automation. The TIA Portal includes SINAMICS Startdrive to intuitively integrate SINAMICS drives into the automation landscape. The same operating concept, elimination of interfaces and the high user-friendliness make it possible to quickly integrate SINAMICS converters into the automation environment and commission them using the TIA Portal.